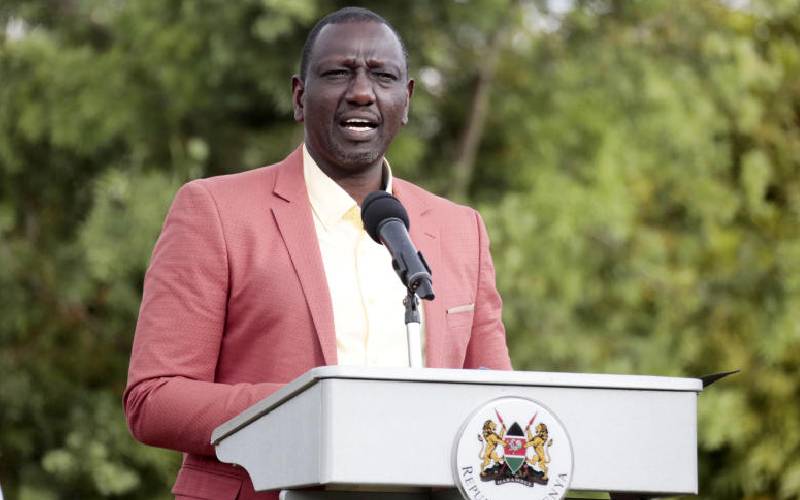 The deputy President Willam ruto has retaliated by replying to Interior Cabinet Secretary Fred Matiang'i by saying he was 70 Per Cent right on the properties he mentioned in Parliament that he owns.
Though the Deputy President claimed that the ADC land which is 15,000 hacters of land in Mutara Ranch in Laikipia County does not belong to him. He said this while addressing leaders from Nakuru County at his home residence, in Karen.
"The Office of the President was 70 Per Cent right, but they added me some property like the ADC land that isn't mine," he said.
The Deputy President William Ruto also said that Interior Cabinet Secretary Fred Matiang'i did a better job than the media since he did not mention Six-Eighty hotel and Boulevard which has always been associated with him.
"In their illegal audit, the media gave me Six-Eighty Hotel and Boulevard which was not part of Matang'i's list," he added.
The DP also said that the CS also forgot to mention he also makes Sh 1.5 million per day from just selling eggs.
"They could have added that in that my poultry business, I have 200,000 chickens and that I get 150,000 eggs daily which earns me Sh1.5 million daily," he said.
He, however,hitted out that a "hustler" is not limited and they can be something even if they come from a humble background.
"A man who bought his first shoes from a Mr Onyango by the road can rise to become the DP and his property be published in the dailies, that is a good thing for other hustlers," he said.
The DP Ruto is said to be owning 5 helicopters,and he also owns Weston hotel in Nairobi and Dolphin hotel in mombasa,which are said to be sitting on a three hectares plot,according to the government document.